By Susanna Brent
Films come and films go, trends run their course, and holiday traditions mean different things in different stages of life, but Emmet Otter is eternal. For the uninitiated, Emmet Otter's Jug-Band Christmas is a short film by the Jim Henson Company released in the late '70's currently available to stream through Amazon. The success of Sesame Street and the Muppet Show inspired Henson to test the feasibility of a feature film. His test case is this simple adaptation of The Gift of The Magi as told through the lives of Ma and Emmet Otter. For me, the secret sauce that makes this charming little film so successful is its authenticity. Henson tackles a number of authentic practical challenges in the film; the characters row a boat on real water, "chop" real wood, real water drips from icicles on the homes set in a forest clearly built from actual foliage. This attention to detail would seem like a parlor trick if the story or characters did not also ring true, and they do. We believe in the love shared by this community of anthropomorphic puppets. Topping it all off, the Paul Williams score is filled with original songs that sound like a collection of stalwart Appalachian folk tunes. The music is the heart of this film and it elevates this cute holiday short to the status of a timeless classic. In the story, Ma and Emmet want to buy each other a Christmas gift but neither can afford the expense until the Frogtown Hollow Talent Contest is announced with a potential grand prize of fifty dollars. They both secretly enter the contest and are faced with choices that will either help them win or ruin their family if they fail. Though the talent contest might not turn out as hoped, you can rest easy knowing that artists are innovative and communities are great at taking care of their own, just like you take care of us here at The Colonial.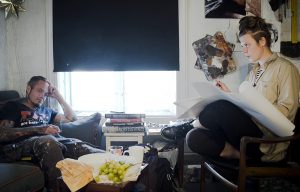 For those of you celebrating traditions other than Christmas, or perhaps you're simply not that into otters, you may enjoy another film about the redemptive power of art called The Painter and the Thief which you may have seen through our Colonial@Home series last year and is now also available to stream on Amazon. This documentary is a master class in vulnerability. Director Benjamin Ree unflinchingly observes heartbreak, financial ruin, a heroin deal, a hospital bed, a jail cell, and sessions of both individual and couples therapy. The film follows painter Barbora Kysilkova whose seminal work, "Swan Song" is stolen from a gallery. When the thief is apprehended, Barbora approaches him in the courtroom and asks to paint his portrait. Very shortly into the start of the film we see Karl Bertil-Nordland, the thief, sobbing at the sight of his portrait which left me wondering where can they possibly go from here? Where they go is dependent on the risks they each take on one another. This is not a neat or tidy story, but it is real. It is a look at both the best and the worst of humanity and the interplay of hope and doubt. My reaction to this film was very strong, but the film itself is actually quite gentle. As I processed what I had seen, the film simply sat quietly in my mind, refusing to leave. When I finally exhaled, I was reminded how good it feels just to give humanity a break. We are all doing the best that we can. We will fail each other and those failures will be heartbreaking, but it is the risks that we take which ultimately reap the sweetest rewards.
As you look towards the new year, I hope that you will stay warm, safe, and healthy and that when the opportunity presents itself, that you will take a chance on a washtub or a new friend. Like the song that Ma and Emmet perform together:
We're closer now than never before
How much alike we are, perhaps we're long lost brothers
There's love in our world and we're showing it more We even think the same, you know there may be others Our world says "welcome, stranger", everybody's a friend We can always use a friendFavorite stories don't end
In our world
We are so happy that you are part of our world and we look forward to making new stories with you next year!