Introducing The Colonial's New HVAC System
The Colonial has installed a brand-new HVAC (Heating, Ventilation, and Air Conditioning) system in our auditorium, which will run throughout all events.
What does the new HVAC system do? The Colonial's new HVAC was installed to provide ventilation, filtration, and air purification, as well as heating and cooling in the auditorium. The system includes a commercial air purifier called the iWave system, which is a commercial-grade ionizing system that works in tandem with the HVAC system's filters. Ionization attracts and combines particulates so that they are captured more easily by air filters. With things like bacteria, viruses, and mold the ions damage the proteins in their cells to the point that they are unable to harm anyone. If you'd like to see an example illustrated, check out this video.
We are excited to have completed this critical infrastructure improvement, which allows The Colonial to open at full capacity for the 2022 season (not to mention bringing the comfort of air conditioning and heat to our audiences!). We were humbled by the response to our call for support on this project, and will move forward with pride as we continue to build and preserve a cultural center that offers a host of culturally diverse, thought-provoking, high quality, and often surprising, entertainment for everyone.
To our members, donors, volunteers, community partners and everyone in The Colonial family who has supported our Theatre throughout this challenging time – you made this important project possible. Thank you!
Project Photos: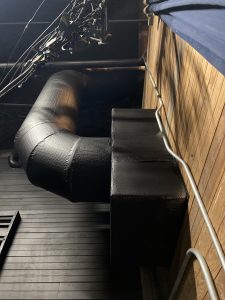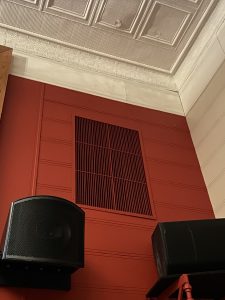 (Above: Backstage and audience view ductwork and vent.)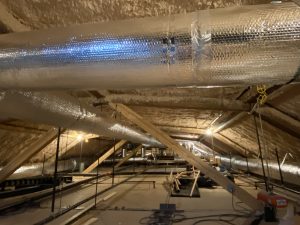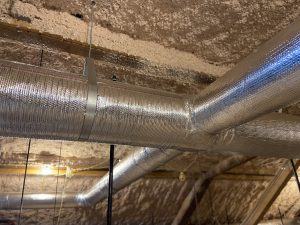 (Above: New ductwork throughout the eaves of the Theatre.)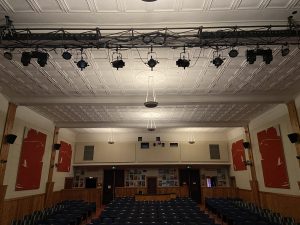 (Above: Onstage view of HVAC grates on rear wall.)