Members Emily Meacham & Doug Morin
How long have you been members of The Colonial?
1 year
Why did you become a member?
Movies, Bethlehem, popcorn—What's not to love? We became members to support this super community institution.
Do you have a favorite movie or musician?
We both like a good comedy or action movie. In 2021 though, our favorite by far was Nine Days, which we saw when we came to volunteer at the Colonial. We would have gone back to see it again, but we didn't catch it until the last showing.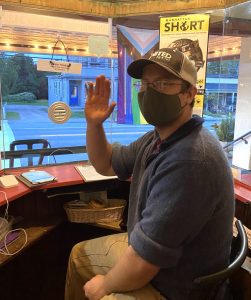 Do you have a favorite Colonial event(s) and why?
We loved the Science On Screen outdoor movies this summer. The presenters were excellent and there's something magical about a movie outside on a summer evening.
What do you like best about The Colonial?
The community! It's more than just seeing a movie, we see friends and meet new folks each time we go. Also, let's be honest, the popcorn and M&Ms.
Do you have a favorite activity/hobby? (outside of Colonial programming of course)
Being in the woods, starting a farm (Tellman Hill Farm – pick your own apples coming soon!), and playing with our dog and two adorable cats.
Anything else you'd like us to know?
We're grateful to have such a fun place in our neighboorhood, and look forward to enjoying even more offerings from the Colonial in a future when live shows and events return!
Thank you Emily & Doug!