Buy your tickets today to save your seats to the year's best climbing films.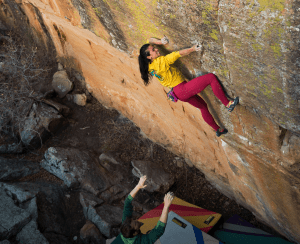 The Reel Rock Film Tour, one of climbing's greatest celebrations, returns this fall with four new world premieres. In a battle for El Cap's coveted Nose speed record, rock legends Tommy Caldwell and Alex Honnold go head to head with Yosemite dirtbags Jim Reynolds and Brad Gobright. Highball bouldering ace Nina Williams flexes her guns and tests her nerves well into the no-fall zone. In rural Utah, conservative Mormon coal miners collide with an influx of out-of-town climbers — with surprising results. And two adventurous Brits, Hazel Findlay and Maddy Cope, pursue first ascents in wild and remote Mongolia.
Founded in 2006 by filmmakers Josh Lowell (Big UP Productions) and Peter Mortimer (Sender Films), the REEL ROCK Film Tour brings the best climbing and adventure films of the year to live audiences throughout the world. The film tour is the definitive annual event for climbing communities globally and will visit 500 locations across the world this fall. Don't miss it at The Colonial!
Trailer coming soon!