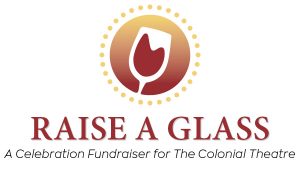 Join us on The Colonial's patio for an evening of merriment including a silent auction, followed by a screening of the Anniversary Classic: On Golden Pond.
This event will raise funds in support of The Colonial's programming, mission, and historic preservation.
Refreshments graciously provided by the Littleton Food Co-op.
We hope to see you there!

The Silent Auction will include:
Golf, Ski and Stay at the Omni Mount Washington
A deluxe Omni Mount Washington package including a one night midweek stay at the Omni, 18 holes of golf for two people, two alpine lift tickets or Nordic Trail Passes to Bretton Woods, and a bottle of Brimoncourt Champagne.
2012 Dom Pérignon
Dom Pérignon 2012 is vintage champagne only. Each vintage is a creation, singular and unique, that expresses both the character of the year (2012 in this case), and the character of Dom Pérignon. After at least eight years of elaboration in the cellars, the wine embodies the perfect balance of Dom Pérignon, the Plénitude of Harmony.
Two Night Stay at The Sunset Hill House
A two night stay in a Sunrise Room at The Sunset Hill House and a bottle of Brimoncourt Champagne. With breathtaking views of New Hampshire's White Mountains to the east and Vermont's Green Mountains to the west, The Sunset Hill House blends the area's rich hospitality heritage and rustic charm with the service that exceeds the expectations of today's traveler.
Paint & Sip Night for 4 people
Enjoy a paint and sip night led by Elaine Gabriel and a bottle of G.H. Mumm Cordon Rouge Champagne. Mumm Cordon Rouge expresses the rich diversity of Champagne's terroirs, always in the fresh, vibrant style that is the signature of Pinot Noir, the House's emblematic grape.
Château Garraud Lalande de Pomerol 2018
Chateau Garraud is a Fourth generation Bordeaux winery in the appellation of Lalande de Pomerol. The wine is presented in a 3 litre bottle, and is a blend of 70% Merlot, and the balance of Cabernet Franc and a small amount of Cabernet Sauvignon. Best consumed between 2023 and 2033.
Schild Estate Ben Schild Reserve Shiraz Case 2015 & Colonial Concert Package
This award winning wine is produced by the fourth generation Schild family at their winery in the Barossa Valley of Australia. The wine is 100% Shiraz from the Schild estate Angus Brae vineyard. The wine is aged in French, American, and Hungarian oak barrels. The Ben Schild Reserve Shiraz is best consumed between now and 2025. The Colonial Concert package includes two tickets to five Live! events at the Historic Colonial Theatre! This package includes tickets to: Gaby Moreno, Maria Bamford, Beausoleil, The Arcadian Wild, and Bendigo Fletcher.
Dine Around & Forge Cellars Package
Visit local restaurants, cafes, and ice cream shops including Alburritos, Jack & Fins, Maia Papaya, Super Secret Ice Cream, and Tim-bir Alley with this gift card package. Accompanied by a mixed case of Forge Cellars handcrafted wines from the fingerlakes region of New York, this lot item is sure to delight!
Amizetta Estate Winery Triplet
This lot item features a suite of three wines from Amizetta Estate Winery; one bottle of Cabernet Sauvignon 2019, one bottle of Petit Verdot 2019, and one bottle of Complexity 2019.
Colonial Board of Directors Selection
The Colonial's Board has hand picked an auction lot of some of their favorite spirits, wine, and beer including, Herman Story White Hawk Vineyard Syrah, St Germain, Flag Hill Maple Liquor, Uncle Nearest 1856 Premium Aged Whiskey, Uncle Nearest 1884 Small Batch Whisky, Ransom Sweet Vermouth, Gosling's Black Seal Rum, The Balvenie Single Malt Scotch Whisky, Absolut Brooklyn 2010 Spike Lee Collaboration, Makers Mark, 2021 La Moussiere Sancerre Alphonse Merllot, Rek-lis Brewery's Clouded Judgement IPA and more.
Craft Beer Package
Enjoy beer from craft breweries including Tuckerman Brewing Company's zesty Summer Pils, Strange Roots' sours and specialty bottles, Schilling Beer Co's Alexandr, Woodstock Brewery's Double Pig's Ear, Moopy, and non alcoholic root beer and more!
Beemster Gouda Gift Bag & 1.5L Longboard Syrah signed by the Winemaker
A selection of authentic Dutch Gouda cheeses from Beemster, a farmer-owned cooperative in North Holland. The delicious cheese comes with a small insulated cooler bag and a tote that's ready for picnics, outdoor concerts, road trips and the farmers' market! In addition, a Beemster branded apron, notebook, cutting board and grater are included. This Beemster package can be enjoyed with one bottle (1.5L) of 2005 Longboard Syrah from the Russian River Valley that has been signed by the winemaker. This gold standard Syrah has layers of fruit enrobed with herb and slightly spicy and earthy notes.
Regusci, a Family Collection
This lot item includes three incredible wines from Regusci Winery; one Bottle Matrona 2018, one bottle Patriarch 2017, and one bottle The Elders 2017.
…And more!
Thank you to our generous silent auction donors and event partners including:
Alburritos
Beemster Cheese
Chang Thai Cafe
Colonial Theatre Board of Directors
Elaine Gabriel
Jack & Fins
League of NH Craftsmen-Littleton
Littleton Food Coop
Maia Papaya
Mountain View Grand
Omni Mount Washington
Rosalind Page & Tom Simpson, Pearl Lake Distributors
Marcia & Jim Roosevelt
Schilling Beer Co
Strange Roots Brewery
Sunset Hill House
Super Secret Ice Cream
Tarrnation Flower Farm
Tim-bir Alley
Tuckerman Brewing Company
Woodstock Brewery
We hope to see you there!