Announcing Our New Director of Programming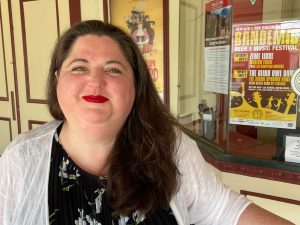 We are pleased to announce that, after an extensive job search, the position of Director of Programming has been accepted by Susanna Brent. The Colonial's search committee received numerous applications from many qualified individuals and Susanna rose to the top of the list based on her qualifications, experience, and skill set – we couldn't be more pleased. Susanna has held positions at The Winnipesaukee Playhouse, the Rozsa Center for the Performing Arts at Michigan Technological University, Good Medicine Theatre Company, and Long Wharf Theatre to name a few.
Susanna joins The Colonial's team as Stephen Dignazio, our outgoing Director of Programming, transitions from founding director to audience member. Describing her path to The Colonial, Susanna said, "As a lifetime arts lover, I am in awe of what Stephen and The Colonial family have built over the years and I am deeply touched by the incredibly warm welcome that everyone has shared. The future of The Colonial is bright because of its rich history, curated programming, and support from its community."
The filling of the Director of Programming position is an exciting leap into the next chapter of The Colonial's story. As we emerge from a year and a half of uncertainty, we are excited to bring Susanna's energy, creativity, and passion for the arts to The Colonial's programming. Please join me in welcoming her to The Colonial family!